Eat Camp 2.0 Kitchen Box -Tryhomy
Sale!
Eat Camp 2.0 Kitchen Box -Tryhomy
Tryhomy Eat Camp Kitchen Box is perfect for outdoor activities such as barbecues, picnics, parties and many more. Everything you need for storage, space or cooking is right in front of you. It's compact, easy to set up and well-constructed, an excellent functional kitchen box for your car camping. Take this mobile kitchen box into the back of your vehicle now to guarantee a full gourmet meal no matter how far off-grid you plan to go.
Specification:
Name: 60L Portable Camp Kitchen Box On Wheels
Dimensions: 182*45(103)*42cm (open); 47*45*53cm (folded)
Weight: 19kg (item); 25kg (package)
Color: black & white
Material: high tensile steel(kitchen box), SMC composite material(table top), aluminum(table legs), wheat straw (chopping board), silica gel(basin)
Package Included:
1*Eat Camp Kitchen, 2*Fold-out tables, 1*Kitchen Sink, 1*Telescopic Lamp Bracket, 1*Chopping Board
Construction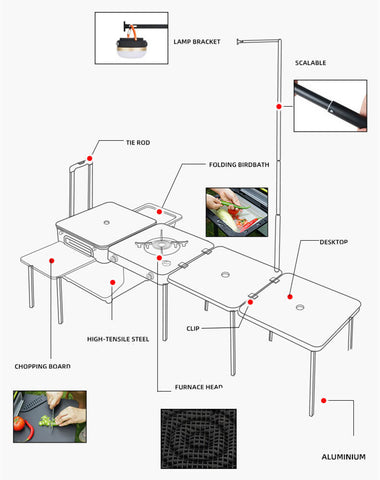 Luggage Design

The kitchen box features a classic black & white color. Two-wheel design makes it easy to move around when travelling, and stay unmoved when standing. An adjustable handle is very handy. When folded, the kitchen is super compact and can fit in different types of cars.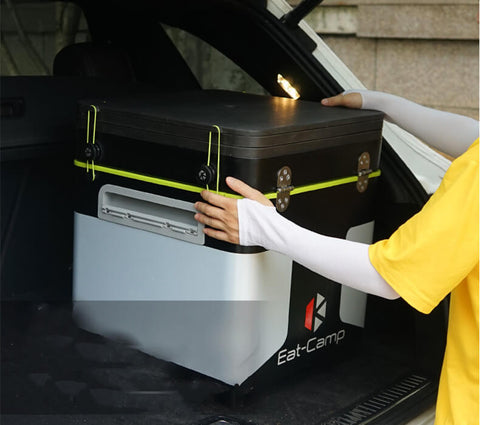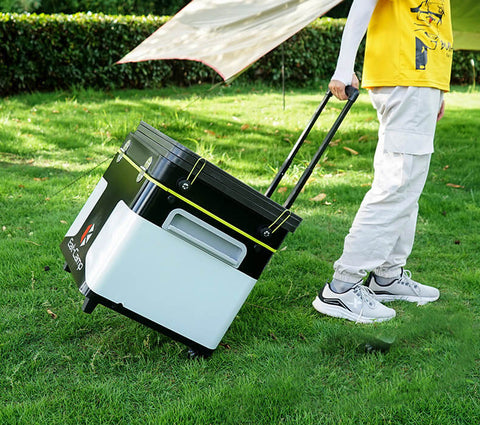 Quality Construction

The kitchen box, made of high-tensile steel, is well known for its resistance to heat and atmospheric corrosion. Extremely sturdy and durable. The table top is made from SMC, a composite material that insulates electricity and is corrosion-resistant. The Aluminum table legs are well-made and lightweight.
Large Storage Space
Measures 182*45(103) *42cm open, 47*45*53cm folded, this all-in-one magic box can hold all your necessary camping gear, food and beverages.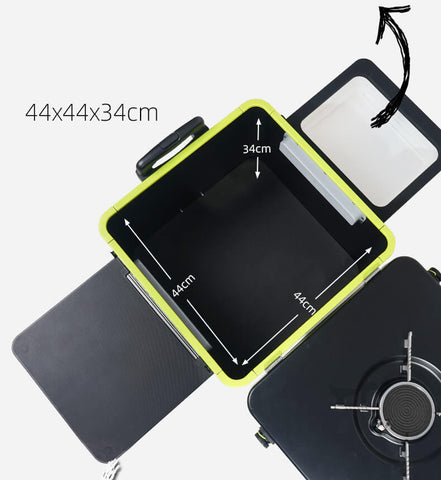 Features and Benefits
The stove is a great plus and super simple to use. Just connect it to a gas cylinder and there you go, having a gourmet meal in the wild is no longer a dream.
The telescopic lantern pole with a light holder is a lovely feature. Put a lantern on it, and it illuminates the area. You can then enjoy extended happy hours with your beloved ones.
A collapsible basin and a chopping board (made from eco-friendly wheat straw) are really handy, which makes food prep much more convenient.
With this Portable Camp Kitchen, you will forget about the kitchen back at home. Get it now and save yourself the troubles in your future camping life.