Eat-Camp Revolutionary Portable Camp Kitchen Box-Tryhomy
Sale!
Eat-Camp Revolutionary Portable Camp Kitchen Box
Tryhomy Portable Camp Kitchen Box can meet all your requirements for washing, cooking, dining and storage during camping with family. Named Eat-Camp box, it is  a kitchen system that folds a full cooking and food preparation setup into a single convenient box.
The camp kitchen box comes with both wheels and a handle to make maneuvering it into position at your campsite easily. It includes gas burners for cooking, tables for dining or cooking upon, kitchen sink and running water system for washing and storage spaces you can drop anything in, such as food, cooking set, gas stove and folding chair.
Specification:
Material: Aluminum Alloy, 304 Stainless Steel and Bamboo Board
Package Size: 22.8*19.7*19.7 inches (58*50*50CM)
40 L Large Storage Space
Weight: 36.4 lbs (16.5 kg)
Max Load Bear: 100 kg
Package Included:
1*Portable Camp Kitchen Box+1*Removable Stove+1*Intelligent Running Water System+1* Washing Sink+1* Wind Shield
Compact
As a car camping kitchen box, space-saving design is ideal for car camping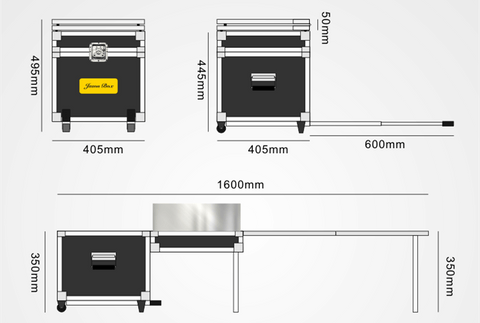 Luggage Design-Camp Kitchen On Wheel
With the wheel, you can take the mobile camp kitchen box to any scenic spot where the car passing is limited.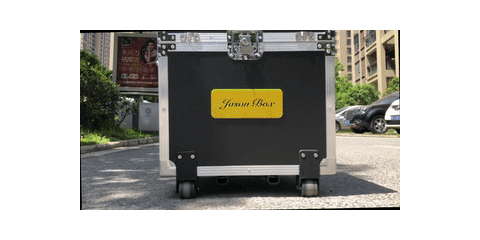 Multifunctional
With One Camping Kitchen Box, you can wash, cooking, Storing, Having delicious food. 44L Storage space, you can put all  tableware in this kitchen box for camping to saving space.
Kitchen Sink & Running Water
Intelligent running water system with UBS, 6600mAh Lithium battery, the kitchen box can work 12 hours continuously. You can use the water like at home.
With the removable sink, you can do some washing works.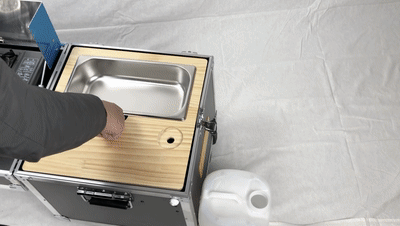 Arbitrarily switched Desktop
Movable design, you can plan the layout according to the space. Two extra tabletops are convenient for 4-6 persons camping together.
All-In-One Box, this Portable Camp Kitchen Box is available for outdoor camping, to the park or the beach, also ideal for RV travel, Car Camping, Truck Camping and Glamping.
You can not find such a kitchen in a small box on the market. When camping outdoor, take with it! But if you can not sit low to the ground, do not buy.